The Ultimate Guide to SMS Marketing
Everything you need to know to engage customers and grow sales
Immediately connect through welcome texts & emails
Wow customers with real-time text confirmations
Help customers come back with friendly reminder texts
Gain valuable feedback to improve your business and service
Maximize immediate dollars with holidays & custom sales
Bring out the red carpet with VIP promotions & flows
Deliver fun content to engage
It's Go Time
The Ultimate Guide to SMS Marketing
Everything you need to know to engage customers and grow sales
Immediately connect through welcome texts & emails
Wow customers with real-time text confirmations
Help customers come back with friendly reminder texts
Gain valuable feedback to improve your business and service
Maximize immediate dollars with holidays & custom sales
Bring out the red carpet with VIP promotions & flows
Deliver fun content to engage
It's Go Time
As the pace of digital transformation continues to accelerate in North America and beyond, the need to better engage with customers becomes increasingly of more importance.  
Savvy marketers understand the value of each touchpoint within the customer journey and know that the more strategically you interact with your audience through relevant engagements, the more that consumer will likely spend with you over time. 
That's why at Trinity we are so excited to be launching new SMS capabilities when creating online customer journeys for our brand customers with Klaviyo.
This new medium (SMS) provides the opportunity to improve core transaction experiences (ex. ship confirmations) as well as marketing opportunities to promote new offerings and engage with new content (ex. price drop on viewed items).  
Working together with email, your website, and core acquisition channels like Facebook – SMS marketing provides improved engagement and an additional channel to drive conversions.
That's why we created the guide below to help you maximize your SMS marketing efforts.
What's your next step? Start below. Assess which of these strategies can be leveraged within your business to better serve your customers.  
Let's get started!
Immediately Connect Through Welcome Texts & Emails
Making the right first impression is a critical part of delivering a great first experience with your brand. By using a multichannel approach to communication after an initial order, the customer is understanding the ability to gain information and interact within multiple ways.
Key immediate connect strategies include:
"Thank you" with option of personalized messaging
A personalized thank you goes a long way to building customer loyalty. Brands can offer concierge service or follow up by enabling the customer to text back a simple word such as "help".


Promotion, discount or other reward
After a shopper signs up, it's always a good idea to give an initial promotion to get immediate engagement. Focus on time sensitive promotions to spur that initial conversion after the opt-in. Options include: discounts, shipping upgrades, buy one/get one promotions, entries into sweepstakes as well as initial "points" within their account as a thank you.


Legal/permission-based jargon with a playful approach
Obviously, any marketer needs to comply with all CAN-Spam compliance and any double confirmation for opt-in processes. In situations where your brand needs additional permission, use text messages to quickly get approvals while using playful language.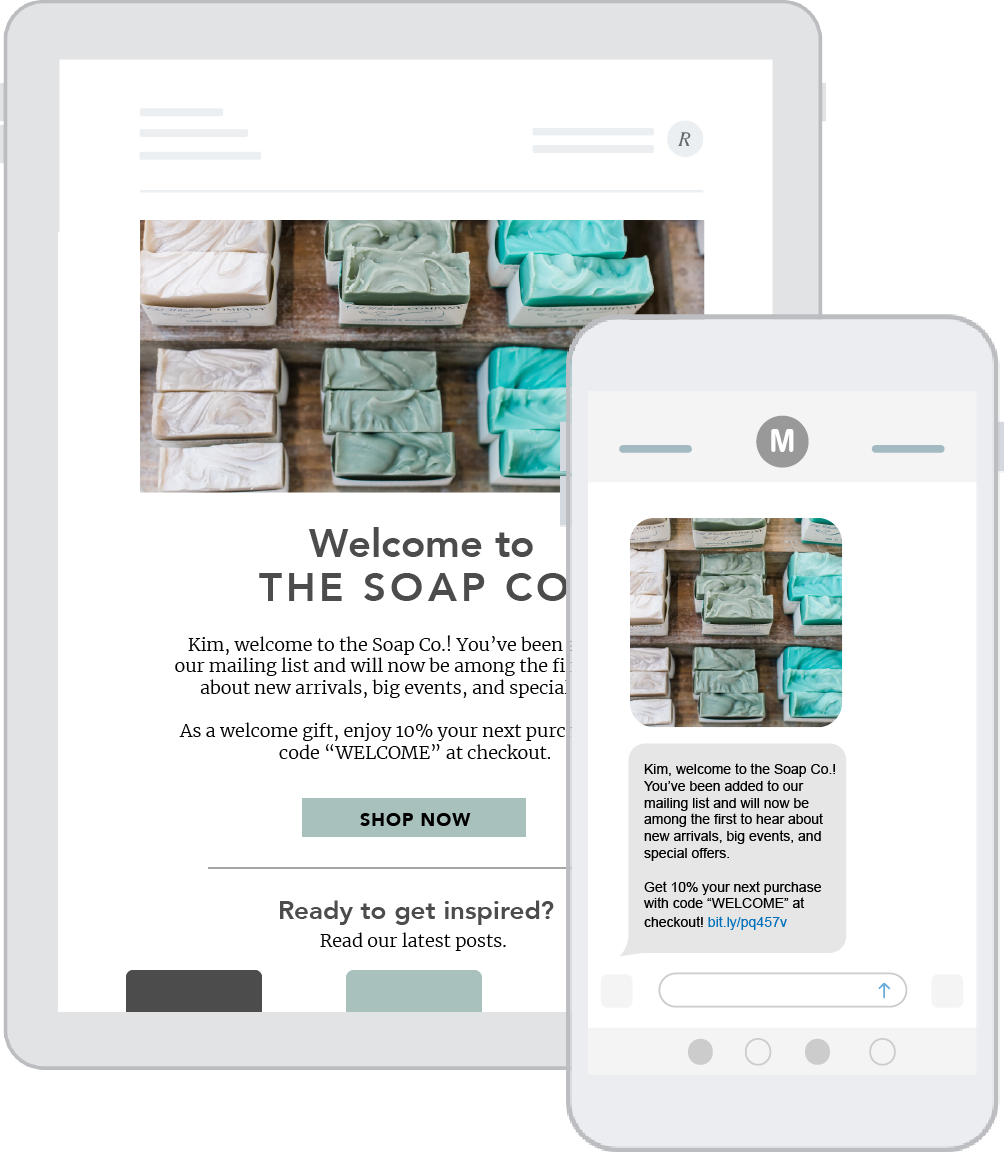 Wow customers with real-time text confirmations
Looking for an easy way to get a competitive advantage through service?  Set up real time text confirmations.  Younger customers will be impressed with high touch communications and your brand will be well on its way to generating potential return customers out of the gate.
Start with the following notifications:
Order placed/received

Transactional SMS (shipping, delivery)

In-stock or new products

Request submitted (quote, contact form, white paper, etc.)

Happenings

Going live on social platform or video
Immediate availability
In-person events, hours of operation change, etc.
Help customers come back with friendly reminder texts
Both in service and product businesses, the "win-back" marketing process is a key ingredient to success.  If your brand has a physical location(s), you can use SMS messaging to ensure your customers are aware that they are "due for an appointment".  
Even better is personalizing this messaging (ex. "Your 2019 Cadillac Escalade is due for new tires").  By adding as much context as possible within the outbound message, the greater the likelihood for the conversion action to take place.
In product centric businesses, such as eCommerce, the value is also clear. Use timed SMS messaging on inactive customers to highlight upcoming sales (pre, during & post) or promotions and weave in SMS messaging with cart abandonment in scenarios in which email abandonment emails did not lead to a revisit/sale.
Gain valuable feedback to improve your business and service
One of our favorite sayings at Trinity is analytics tells us "what" is happening but research tells you "why" something is happening.  There is no better avenue to gather the "why" then from direct customer feedback.
Outside of having surveys and UX monitoring capabilities on your site (you should have these already!), use SMS to send periodic surveys within your customer journeys.  Make the questions short and easy, and gear your design for the UI of a smartphone.  By gathering additional sources of feedback, your website development and business changes can be driven from direct customer input. 
Maximize immediate dollars with holidays & custom sales
As you look at your marketing calendar, there are numerous avenues and opportunities for custom sales.   These become even more meaningful when they associate directly to the customer. 
For example, send a thank you text and your customer's birthday with a gift card or discount code. Another avenue could be to highlight anniversaries with your customers (ex. 10 years) where you can invest in more meaningful gifts to show appreciation and loyalty.
Outside of these more custom approaches, use the calendar to pick certain holidays that you want to highlight with associated sales or promotions. Use SMS to highlight these holiday events complete with fun emojis to resonate with your audience.
Bring out the red carpet with VIP promotions & flows
As you look at your marketing calendar, there are numerous avenues and opportunities for custom sales.   These become even more meaningful when they associate directly to the customer. 
Golden rule in marketing?  Treat your best customers like kings and queens and see the loyalty.  Customers spend different amounts and have a wide variety of value to your business.  
As a marketer, it's your job to identify these "high value" segments and give them the level of enhanced service that they deserve.
Using SMS, you can further the connection to your high value segments.  
Consider the following approaches with your SMS marketing such as:
"White Glove" Concierge Service (Shipping, Product Set Up)
Friends and Family Offers (not public)
Early-bird access
Special discounts to certain tiers
Access to exclusive content
Deliver fun content to engage
Every brand needs to be a publisher of some sort. Creating content, amplifying that content within social media and offering that content to your audience is a critical part of building a brand.
When you create content, send SMS messages that give an easy path for your audience to engage.
Start with the following ideas for how you can distribute content via SMS:
Links to quizzes & online games
Links to Podcast
Links to blog posts & articles
Downloadable content (ebook, Spotify playlist)
We hope you enjoyed this guide for using SMS and text marketing within your customer journeys.  Which strategy are you going to use first?  How do you think it will impact your customers?  
We would love to hear from you!  Feel free to contact us with any questions or feel free to schedule a complimentary diagnostic review of your Klaviyo set up so we can maximize your growth potential. 
Klaviyo is a marketing automation platform built from the ground up for eCommerce businesses. Our sole mission is to help businesses grow. We do this by effectively using your own customer data to create personalized experiences across email, SMS, web, and social.
Trinity works as an extension of your business, using data and our human capital to drive optimization and ecommerce growth. Trinity is a Klaviyo Master Partner; helping clients with all aspects of email marketing services, including strategic guidance, technical support, and superior implementation.
Trinity Created an SMS Automation that Generated Large Gains for Elk Springs Resort
To help us better understand your needs, we'd love to start with a complimentary performance assessment of your email strategy. Fill out the form below and we'll reach out to you.
Book a FREE 30 min. Strategy Session
Meet with one of our experts to discuss how to build a personalized plan for your site​
Complimentary Email Marketing & Automation Assessment
Meet with one of our experts to discuss how to build a personalized plan for your email strategy.
a 3-5 business day turnaround
Need more in-depth insights?
Each of our complimentary assessments are a 'lite' version of a much more comprehensive email audit that we offer.