Automated Personalization to Explode eCommerce
Everything you need to know to personalize and automate the customer experience at scale
Fundamentals of eCommerce automation
How your eCommerce store can drive personalization 
How to leverage your data to provide a complete view of all customer interactions
Automated Personalization to Explode eCommerce
Everything you need to know to personalize and automate the customer experience at scale
Fundamentals of eCommerce automation
How your eCommerce store can drive personalization 
How to leverage your data to provide a complete view of all customer interactions
As we start a new decade of digital commerce, it is evident brands that will win in the future will be the ones that deliver differentiated and personalized experiences that exceed expectations.
80% of shoppers are more likely to buy from a company that offers personalized experiences (Epsilon).
However, exceeding expectations is not easy in the age of Amazon. Even with the rise in consumer expectations, a large subset of the eCommerce website market does not leverage personalization and/or automation to better merchandise and market their products.
This report provides you with a strategic action plan to kickstart the effectiveness of your eCommerce personalization efforts:
We'll break down the fundamentals of eCommerce automation

Outline how your BigCommerce store can drive personalization and

Provide an overview of how to leverage your data to provide a complete view of all customer interactions
Consumers Want Tailored Experiences that Speak to Preferences
The case for personalization within your organization is clear: it is the foundational element that will help build long term customers by creating repeat customer behavior.
Data application provider Segment reports that 44% of consumers say that they will likely become repeat buyers after a personalized shopping experience with a particular company
Personalization starts with data. Your company needs to have a "data layer" within on-site scripts that enables your website to create an ongoing historical pattern of clickstream data (pages and clicks) that will power future customer models and triggered based events.
If possible, this data should be perpetually stored and then unlocked for marketing when a visitor initiates a "identification event". This event could be the opting in to an email list on-site, signing up for a product event on Facebook, or in most cases the completion of a purchase.
The benefit of this deeper level of granular data is the ability to create unique messaging and offerings to distinct segments that power pre-sale, post-sale, and loyalty personalization. Let's dive into all three.
1. Pre-Sale Automations
Within presale automations, we are looking to break through and gain that first sale. Our goal is to earn the trust of the consumer and persuade them to the point in which they type their credit card digits.
Pre-sales automation is done typically by capturing the email address of the consumer by offering a modal that speaks to a category promotion. This is a critical first step as it enables the "authentication" of the shopper that is so vital to long term personalization.
For example, if a shopper reaches 3+ product pages within the suit category – the eCommerce store could present an email capture modal that offers a tailored coupon to the category for first time shoppers.
These email modals convert at high levels and now provide the ability to create a dialogue and tailor communications based on subsequent visits. This information about the customer needs to be captured within a core CRM that can be leveraged for future campaigns.
2. Post Sale Automations
Immediately following a sale, post sales automations help create future mindshare and build your customer relationship. Automations to gather reviews, present related items, sets delivery expectations, as well as providing relative content that helps distinguish your brand is the goal in these immediate post sales automations.
According to Accenture, 75% of consumers are more likely to buy from a retailer that recognizes them by name, recommends options based on past purchases, and knows their purchase history.
3. Loyalty Automations
Loyalty automations kick in at certain intervals within a customer relationship. Known in the industry as "win back" campaigns, these automated emails are geared on re-engagement and offers in order to get continued revenue from the already gained customer from past marketing efforts. On the opposite side of the spectrum, loyalty automations can also help build lifetime customers by recognizing loyal customers with rewards when they reach milestones and incentivising referrals.
Your Personalization Playbook
Looking for insight into where to start?  A variety of example segments across all three types of automations are outlined below:
-New Customers
Someone just signed up for your emails and/or purchased from your store. This is a critical time to "onboard" them as a customer or subscriber. An automated sequence to establish your brand through content and offers is vital to maximize the value of these interactions, typically over a 5-10 step cadence over 2-4 weeks.
-High End Customers
Like in most industries, the 80-20 rule holds true. 20% of your customers are going to generate 80% of your revenue and likely profits. Ecommerce personalization is going to help you nurture these shoppers and speak to them differently than everyone else.This extra level of service and communication will not go unnoticed and will increase your chances for continued loyalty.  An example automation could be to create "tiers" of customers so that when a customer reaches a certain threshold in a calendar year (ex. $500) they receive an automated thank you email informing them of their milestone, mailing them a gift (this can be automated), as well as emailing them a discount code for their next purchase.
-Favorite Colors and/or Related Items Once you know the color of a previous purchase (primarily in apparel), you can send future emails and/or site presentations to mirror what colors are preferred. On a similar level, you can set up automated emails that "complete the look" and present related items that correspond to the original purchase. The goal here is to get the second purchase by presenting products that your customer will truly find relevant.
-Clearance Tendencies
Does your web visitor always navigate to clearance merchandise within your store?  If so, you have a shopper that is heavily dictated by price and will be more inclined to take action when there is a "deal to be had".  Present clearance creative into the homepage and within category banners on the site to take advantage.  Alternatively, present price drop emails when viewed merchandise hits thresholds in order to spur email opens and purchases.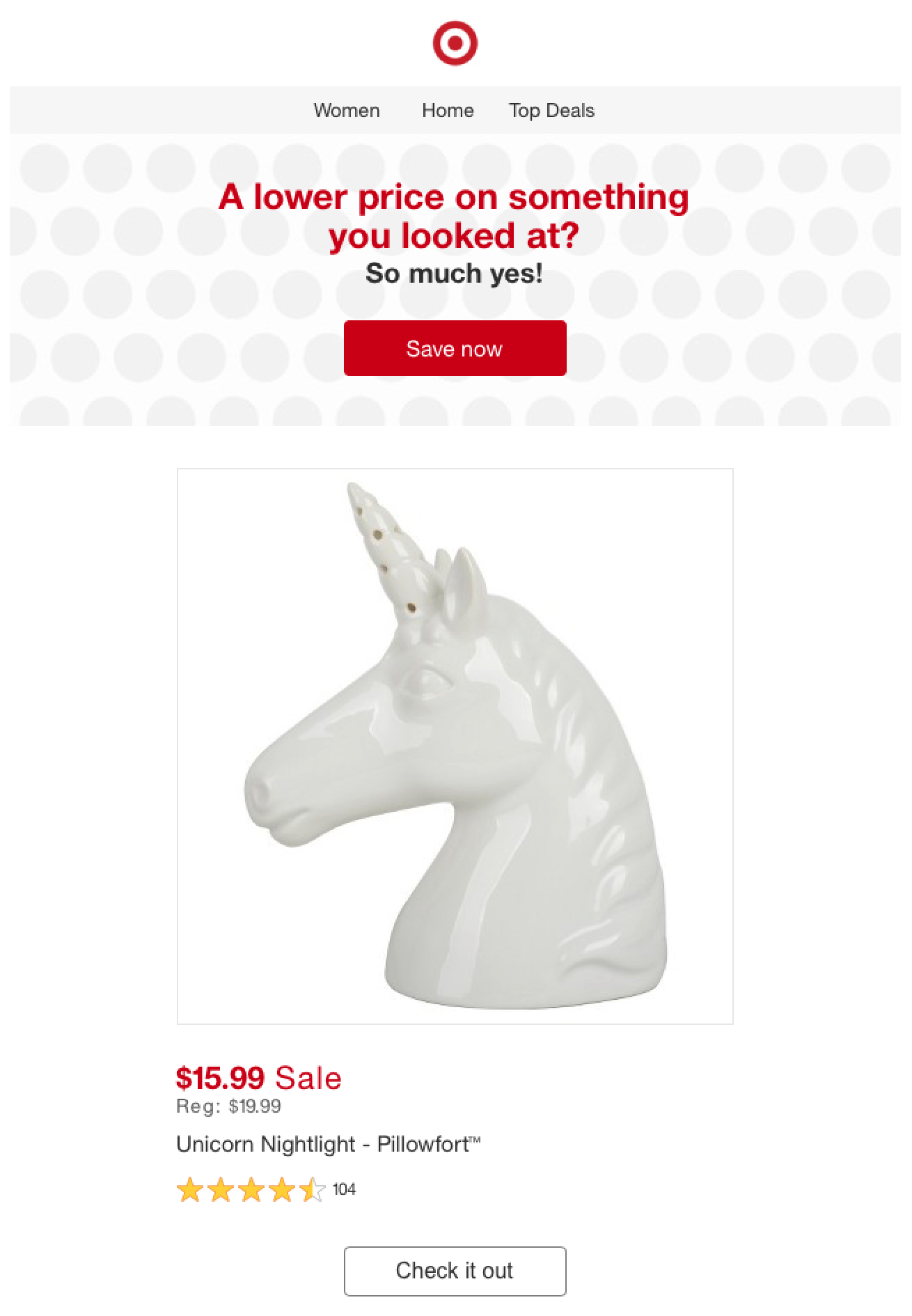 -Email Subscriber & History
 A simple personalization strategy on any initial website session is to provide value in order to obtain an email address.  Value does not always have to be in the form of a discount, but that typically is the easiest path to present.  
According to Business Insider, 54% of shoppers anticipate a personalized discount within a day of sharing their information with a retailer.
Use your site data to identify if or if not a user is a member of your email list and present dynamic website creatives depending on the current status.
Below is a Trinity email segmentation example. Each of the segments have their own unique goals, both for the user as well as for the business.  As such, it is important to plan out the customer journey for the highest priority segments and roll out specific campaigns and automations to deliver targeted, relevant messages. 
Below is a Trinity example of a welcome series flow after a client subscribes to a newsletter. Planning is essential to engaging new customers with your brand messaging.
-Browsing History
 Another simple strategy you can embrace within your email automation efforts is using browse history to send purchase reminders.  This takes place on non converting sessions when users reach a threshold in views.  To make these emails even more impactful, try integrating stock urgency information to let the shopper know that now is the time to take action.
 -Geo-location
Does your brand get overseas traffic?  You should let your traffic know that you ship to your users home country.  With a Trinity customer who had a high amount of Canadian traffic, by just letting the visitors know that the customer shipped to Canada front and center on the site within a global banner drove conversion for that segment up 25%.
Alternative strategies relating to geo-location correlate to the weather.  If it's February, your website traffic from Miami is much different than that of shoppers from Denver. Merchandise presentation on the homepage and your primary promotions etc should always factor in weather to a site targeting strategy.
-Channel Interaction (ex. YouTube)
Every brand needs to be a publisher to compete and win in eCommerce.  Regardless if it's YouTube or Instagram – use social intelligence captured within your data collection efforts to present your channels and pages in more personalized ways.
Personalization is Achieved through a Flexible API
As you progress on your personalization journey, BigCommerce provides the API flexibility to enable integrations of any kind and can synchronize within the martech ecosystem. Many integrations are simplistic and straightforward (such as those in the marketplace) while others may require a bit more in the area of custom development.
Three key applications are needed in conjunction with the BigCommerce platform to achieve eCommerce personalization growth:
An

email marketing system

that enables trigger-based flows and integrates directly with BigCommerce

A product recommendation system that uses algorithmic merchandising to present related products to consumers within the shopping experience

A data platform to store ongoing perpetual activity from your customers with the ability to integrate and activate campaigns in marketing scenarios
Enterprise BigCommerce customers can utilize the BigCommerce insights functionality that is built within the application to start getting the data you need to act upon these segments and personalization opportunities immediately.
Build differentiated commerce experiences regardless of your current state, on the only platform with the flexibility to propel your business forward. Designed to support a diverse range of use cases while streamlining operations, BigCommerce enables your teams to focus on innovation, not issues. Replatform with confidence using our intuitive interface or expert services to minimize time-to-market — all at a lower total cost of ownership than other leading ecommerce platforms.
Trinity works as an extension of your business, using data and our human capital to drive optimization and ecommerce growth. Trinity is a Klaviyo Master Partner; helping clients with all aspects of email marketing services, including strategic guidance, technical support, and superior implementation.
To help us better understand your needs, we'd love to start with a complimentary performance assessment of your email strategy. Fill out the form below and we'll reach out to you.
Book a FREE 30 min. Strategy Session
Meet with one of our experts to discuss how to build a personalized plan for your site.