Online brands need to put significant stock into the naming conventions of a taxonomy. The category and sub-category naming conventions that are leveraged within a eCommerce platform and/or content management system provide the initial signals for Google into what terms your business feels are most appropriate for your website.
Because these semantics/links are populated within your navigation and render within every page within your site the words that you choose to name these categories are paramount. The breakdown has to map to the most advantageous words for your brand from an organic search standpoint but at the same time make sense to your users when they use your navigation when finding products and content.
Much of these decisions can be made by conducting standard keyword research. Tools like Google's keyword tool (which is going to be discontinued later in 2013) can help in understanding how users type queries within your market. Equally as vital is Google trends, which can help identify new terms that are gaining momentum. This becomes especially important in markets such as "fast fashion", where inventory cycles are quick and trends change quickly.
When conducting these processes, one area that we see retailers not leverage nearly enough is Google instant data. Google instant is the technology that powers Google.com and suggests terms as a user types. These terms are suggested algorithmically by the engine, using previous user search volume and page interactivity to metrics to identify which phrases to suggest. Since the majority of Google searches are "long tail", in the neighborhood of 3-6 words, this can be a tremendous way to generate a competitive advantage in both SEO and PPC.
Google instant data is not available from Google, either in the form of a tool or an API. Don't fret however, as there is a way to get this data. At Trinity we use a tool called UberSuggest to get this data and help construct our taxonomy recommendations and editorial calendars.
UberSuggests scrapes Google instant data and allows a brand to see every variation with a core keyword, using every letter as a potential path. Check out the example below for the core term of "area rugs".

The system allows to drill down into a phrase and put phrases that could be of value into a bucket. This bucket of terms can serve as the refinement options within a search and navigation system or also assist in finding the terms in paid search for which the competition is not bidding on. Because these terms are being rendered via Google Instant, you know they are getting visibility in Google and likely have high value if leveraged correctly.
These terms should not just power your category names. The longer phrases can help assist in creating buyers guides or copy pages to assist in building your authority within a niche. Especially effective are queries that are "questions" as they power research queries and are when a user starts the purchase cycle.
In the example below, we are extracting Google instant data relating to cleaning rugs so we can shape our content development to map to Google instant queries.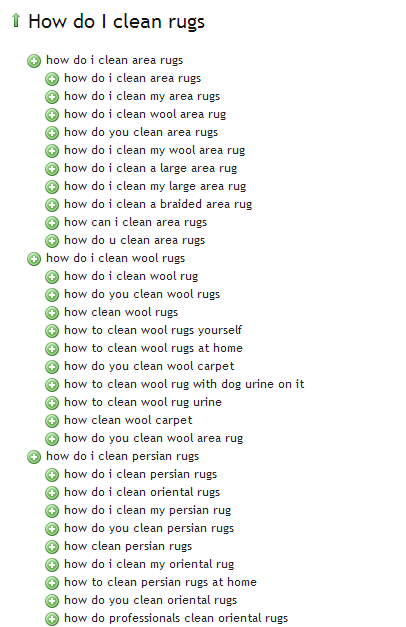 Don't neglect Google Instant data when refining your taxonomy and when defining your PPC and SEO strategies. Better leveraging this information in your content marketing and eCommerce efforts will lower your cost per visitor and help drive a competitive advantage.