Trinity's CEO Craig Smith was invited to lead the keynote presentation at this year's New England eCommerce Summit. As our partner BigCommerce was the lead sponsor of the event, we were thrilled to support them!
The Summit was a bit different this year, hosted on June 30th to a virtual audience of marketers, business owners, retailers, and vendors. And though we were unable to connect in person, Retail Summit's mission to connect retail brands and solution providers was met digitally.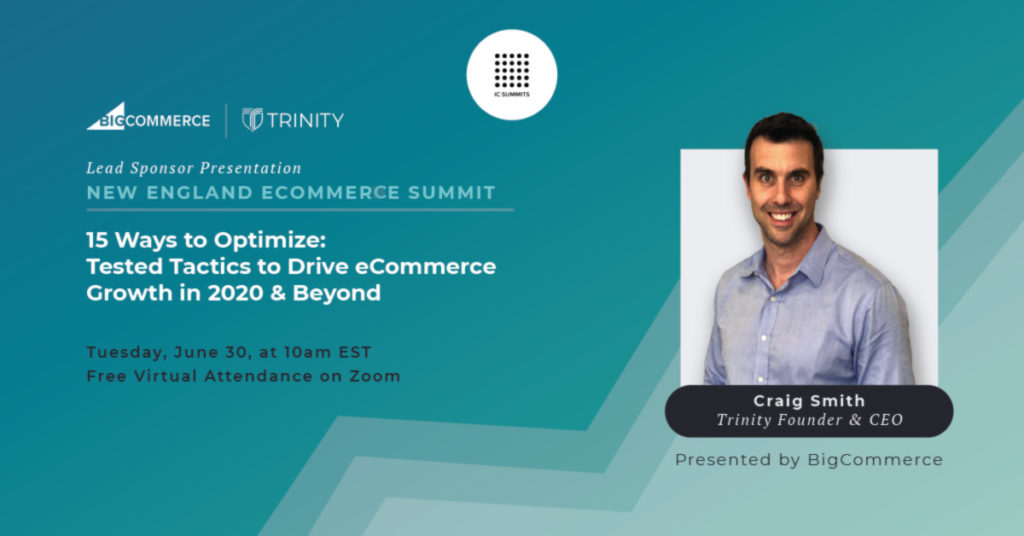 Watch: Lead Sponsor Presentation
The first speaker of the morning, Craig set the tone for the day's packed agenda in his presentation, "15 Ways to Optimize: Tested Tactics to Drive Ecommerce Growth in 2020 and Beyond".
In his talk, Craig examined a variety of strategies for retailers to embrace including advanced approaches in SEO, on-site personalization, as well as automated triggered communications.
The organizers at Retail Summits were kind enough to record all panels and presentations. If you missed it (or want to hear it again), watch Craig's presentation below!
Partner with the Experts at Trinity
Craig Smith is a regular speaker and workshop presenter at national and international conferences. You may have heard him at IRCE, eTail East or West or ConvEx in the past! With over 16 years in business and hundreds of happy clients, we have plenty of experience and expertise to draw on.
If you would like to invite Craig or one of our leadership team to speak at a future event—virtual or IRL—please get in touch.